Dateline Now! We at sfo-weatherman.com hope you enjoy our newly re-vamped site. As time goes on we will add additonal information as well as links to other weather related sites.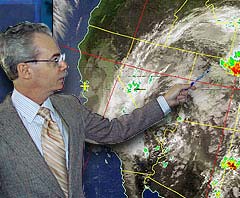 We are located in San Francisco, California on the west coast of the good old USA where the weather is moderate to chilly most of the time.
It really is true that the coldest winter day you will ever experience in our fine City will be in the middle of June, one of our summer months.

So, welcome to San Francisco even if you're here only in heart. Stay and play at sfo-weatherman.com. Check out the satellite photos of the west coast and be sure to play with our live hi-resolution network camera located above downtown San Francisco.